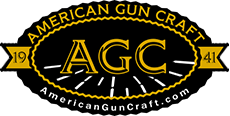 American Gun Craft
Manufacturing & Distribution
"Drawing from our rich manufacturing heritage, all of the parts we manufacture undergo complete quality assurance checks. We pride ourselves in supplying our customers with a finished product of the highest quality in the most efficient and cost effective method. Our manufacturing processes are checked before moving on to the next operation, and a final quality check of items is made prior to dispatch."
AGC has combined and deployed years of experience with today's modern shop capabilities to meet the changing quality levels demanded by industry and our customers. We anticipate the future needs of our customers and have built our operations into highly sophisticated, computerized, and state of the art facilities.
AGC represents a consortium of manufactures. We offer precision machining services that range from 5 axis milling/drilling, CNC machining, jigs to fixtures, welding, and fabrications. We have over 15,000 sq. ft. dedicated to assembly, welding, and fabricating processes alone.
We have successfully combined the time-honored tradition of pride in workmanship with the advantages of today's technology. We offer the highest possible accuracy, fast turnaround, and a management team that has built quality control into every procedure, allowing AGC to offer what we feel is the ultimate balance between cost of production and value for the consumer.

We specialize in the hunting and shooting sports industries.