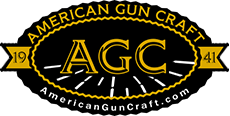 Shipping and Returns
American Gun Craft Shipping and Returns
All AGC products including pistols and rifles can be shipped directly to the customer. No FFL or dealer license is required.
We ship orders via a variety of carriers dependent upon the weight of items purchased and the state the order is shipping to. All shipping charges are applicable to the contiguous United States and additional charges will apply for Alaska and Hawaii. At this time, we are only shipping orders to customers in the USA. We cannot ship outside of the USA, including Canada.
Order cancellations are subject to an order cancellation charge of $35.00
By Checking the terms and conditions box you are agreeing to the following: I understand it is my full responsibility to make sure the gun or related accessories I am purchasing is legal for me to own and possess in my state, county, city, municipality, or other governmental jurisdiction. By checking the Terms & Conditions box, I agree that I am legally allowed to own the items in my shopping cart as detailed above.
We ship directly to the customer's door throughout the United States, except for customers in New Jersey, Washington D.C., New York City and Illinois. In these areas we will ship to a FFL licensed dealer.
There can be backorders or cancellations even if not mentioned. Often orders cannot be changed once placed, so be sure of your order before submitting! All orders are subject to cancellation before shipping, and are not considered complete without all necessary information. The guns and items on your order are NOT reserved or held for you and the items may sell out before your order is complete. You will be notified via email if we can no longer process your order, your order is cancelled, or if your order has gone into a backorder status. You will be offered the opportunity to cancel your order should your order be placed on backorder.
Orders placed on our website that include guns require an Adult Signature upon delivery. You will be charged $5.75 per order and additional charges may apply depending upon the number of items ordered requiring an adult signature.
The delivery address entered on your account and your order MUST match exactly your billing address for the credit card you are using. If it does not your order may be delayed or canceled. We reserve the right to require any order to ship to the confirmed billing address at our discretion.
Returns Information
Due to safety considerations and legal/regulatory reasons Black Powder Firearms may not be returned.
Due to safety considerations and legal/regulatory reasons, Ammunition, Guns, Gun Powder, ammunition components and Primers may not be returned.
For other returned items your return must have an RMA number assigned to it and that number must clearly be marked on the outside of the box. Contact customer service to request an RMA. You must provide a copy of your receipt with the returned item(s). The cost of shipping to return the item(s) is the responsibility of the customer. For more on our return procedures contact our customer service department.