AGC 12 Gauge Fast Load Slug
$29.50
12 Gauge Fast Load Slug
1oz Slug in a quick load
Sabot Carrier
Use with loose powder
or drop in a .50 Cal pellet (50gr or 60 gr black powder or black powder substitute, NO SMOKELESS POWDER). 25/pack box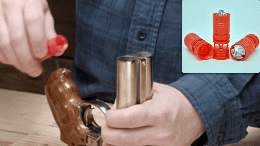 Super fast load and powerful! No wads required!
Drop a .50 cal. pellet in the barrel. Off the shelf brands of .50 caliber pellets are available in most guns stores, farm-n-fleet stores and dozens of online retailers that will ship directly to your home.
 Insert the AGC 12 Gauge Fast Load Slug Sabot into the barrel
Insert your 209 shotgun primer in the breech
Your done, no wads and no need to measure powder.
Load your shotgun in a few seconds
Watch the video how to load – loading the gun
DUE TO VENDOR DELAYS BEYOND OUR CONTROL WE ARE NOT ACCEPTING BACK ORDERS FOR THE FAST- LOAD SLUGS AT THIS TIME. 
IT MAY BE UP TO 15-20 DAYS BEFORE THESE ARE AVAILABLE
WE WILL POST UPDATES ON THIS PAGE AS WE RECEIVE THEM FROM THE VENDOR
Ammunition – Ammo Sources – Primers
209 Primers
Powder: Loose and Pellets
Out of stock
Description
12 Gauge Fast Load Slug
1oz Slug in a quick load
Sabot Carrier